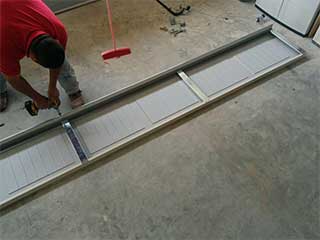 Garage doors, like other machines, are prone to occasional damage. This can result from accidental wrong use, wear and tear, rust and other reasons. Regardless of the cause of the damage, our team of garage door repair professionals can help diagnose and resolve your problem. Read on to learn more.
Replacing Hinges and Tracks
If your hinges and/or garage door tracks are damaged, your door can become unusable and even dangerous to operate. This is because your hinges hold the door segments together and hold the rollers as well. The tracks help to guide the door as it slides up or down. If any of these components are faulty, give us a call to get them repaired or replaced.
Rollers and Bearings
Garage door components that move or rub against one another often wear down over time – this is due to dryness or rust caused by a lack of proper lubrication and prolonged exposure to damp. Dryness in rollers or bearings can undermine your door's performance, causing it to become squeaky and unpredictable. Give us a call to discuss repairs for your garage door rollers or any related component.
Stuck Door?
If your garage door is stuck and won't open, our team of technicians can help to identify and fix the problem. This issue can be caused by a bent track or broken cable. In many cases, it can also indicate an urgent need for maintenance or replacement of the damaged parts. Whatever the reason, we'll work to make sure it doesn't happen again.
Garage Door Repairs - Call Us for More Information
For more details about our garage door repairs and how our technicians can help you, contact a consultant from Garage Door Repair Layton today.
When it comes to your door, we don't settle! We also offer:
Part Replacement & Repair
Extension Spring Adjustment
Garage Door Off Track Repair