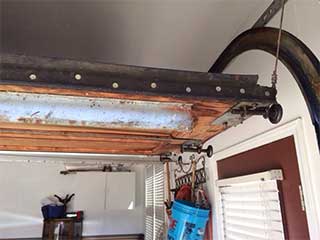 In order to make sure your garage door is working properly and is safe for you and your family to use on a daily basis, it's important that you call us for regular maintenance appointments. Our professionals at Garage Door Repair Layton know what to look for during such an inspection and will make sure your door stays in the best possible condition. This will improve your home's value and keep you from spending money on more expensive repairs in the future.
The Importance of Lubrication
In order to ensure your garage door works properly, our professionals will lubricate the rollers, brackets, and springs. Without proper lubrication, your system will not work the way that it should and can gradually accumulate more and more wear and tear damage over time. Lubrication ensures that the system's moving components are working as efficiently as possible.
Complete Spring Adjustments
Another benefit of regular maintenance is that our team can make all the necessary adjustments to your springs. These components are very dangerous to handle if you do not have the proper tools and the professional training necessary to complete this type of work safely. We can make sure your door closes properly, isn't tilting, and that the springs are in great condition and that their tension is evenly distributed.
Inspecting the Opener
Your garage door opener can also benefit from regular maintenance. By making sure it closes at a safe speed, stops and reverses before it hits an object that gets in the door's path, and doesn't bounce back up after closing, we'll ensure your door is safe to use and is operating exactly the way you want it to.
Contact Us Today
Call us today to schedule your routine maintenance appointment with our professional technicians at Garage Door Repair Layton. Because of our extensive training and dedication for ensuring your safety and satisfaction, we can make sure your door stays fully operational for a long time.
We also offer:
Liftmaster Chain Drive Lubrication
New Opener Remotes & Clickers
Emergency Broken Spring Replacement